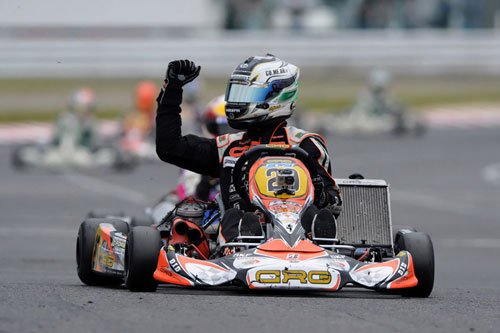 How do you win your Go Kart race?
Well, the easy answer is find the fastest line around the track and master your cornering techniques, but the truth is victory comes to those who are most prepared.
If you are prepared for the day at hand, there will be no surprises, you can be calm and collected, and overall have an excellent race day. Sometimes it's not even about winning the race, it's about finishing the race strong and knowing that you drove the fastest race you could have in the end.
Below are some steps you can take before every race weekend to ensure you put yourself in a position to win, before the race starts.
Preparing Like a Winner
Pre Race Checklist
Make sure that everything that needs to be done on the kart is completed before you get there. Change your oil, tighten up and double check all the nuts and bolts, get your spec gas all ready to go, etc. There is nothing worse than showing up on a race day and having to make drastic improvements to you go kart while you're on the paddock.
Its most helpful if you write up a pre-race checklist on your smart phone the night before and literally check everything off to make sure its completed. Using the same checklist every race will ensure consistency of preparation.
Get a Good Nights Sleep & Eat a Full Breakfast
Get an excellent sleep the night before, and make sure you eat a great breakfast. A good night sleep will help improve your reaction time on the track and increase your ability to make good decisions.
I understand that we go kart lovers have to get up early to be where we need to be sometimes, but regardless you will perform much better on a full stomach than you would otherwise. And then there are those of use who need to eat to make weight either way! So eat a good meal before you get going!
Walk the Track
Before you get on the grid it's a good idea to take a look at the track or even better walk it. This might seem weird but every go karter should try it at least once if they don't already do it. After you walk it, try and just visualize the track in your mind so that once you get out there it will seem easy! Like you've done it one hundred times before. This is especially crucial if you are at a track you've never visited before. You should really take the time to study the track in this case.
In addition to walking the track you should also review the flags to make sure you are familiar with what the circuit uses.
Get to the Race Grid On Time
Pay attention to the race officials. It sucks to be last on the grid or have people waiting for you because you missed the call while you were having a conversation with that cute girl from the next pit over. So try to resist and pay attention! The day will go much smoother overall if you're on time.
It will benefit you to sit in your kart and meditate for a few minutes on your strategy, while you wait for other drivers to take the grid.
Getting a Good Start
Once you're on the track, your focus has now switched to the green flag. As soon as that flags falls you need to be ready to step on it! Getting a good start is a crucial part of any race. Be ready for it.
Think 2 Steps Ahead
Once you're actually racing, try and stay calm, cool and focused on the kart in front of you. Always be thinking ahead about how you might overcome or hold off an opposing go kart. Also, always be ready for them to make a mistake. Every time they slip up, you are given an opportunity to make a move and overtake. Take advantage of this factor and stay focused so you aren't the one slipping up! This will be your key to winning the race or finishing ahead of those you have been racing with all year.
5 Beginner Tips for Winning Go Kart Races
Sit With Your back flush Against the Seat – Posture plays a role in how your karts handles and accelerates. Sit with your back up against the seat and do not lean forward. Leaning forward will slow you down.
Grip the Wheel at 10 and 2 – 10 and 2 is preferred but any symmetrical grip is fine. Grab the wheel sturdy so that your have good control while you turn. If you don't grip tight enough you will waste time and inertia correcting your kart's racing line.
Keep the Wheels Straight as Much as Possible – The straighter you can point the front wheels with your foot on the throttle the faster you will be. Ever time you turn and/or swerve you reduce your speed and negatively affect your lap time.
Threshold Brake – Braking with your front tires straight is more effective than braking while turning. Try to complete all your braking before the corner and then accelerate through the corner.
Follow the Fats Drivers – If you are not winning thats fine, but pay attention to the fast racers. See what line they are taking on the track and try to mimick it.
Ready to Win
Of course we aren't saying that by doing these things you are sure to win your next go karting race, however, these steps should help you to stay calm, cool and confident. These three things are crucial for a racer! If you are looking for information about how to race your kart to the absolute edge for faster lap times, check out our Advanced Driving Techniques for the Fast Racing Line and 10 Tips for Faster Corners.