Find Go Kart Racing Near Me
Go Kart racing varies from state to state with indoor and outdoor tracks and different speed, age, and safety regulations per state. Choose your state from the list below and you will get a list of indoor and outdoor go kart tracks in that state. Also included is address, phone number, website, and hours of operation. Most of the websites will contain speed, age, and safety regulations.
Find Your State Below for a List of Tracks
Go kart speed, safety requirements, and regulations will vary by state and location.
What is Go Kart Racing?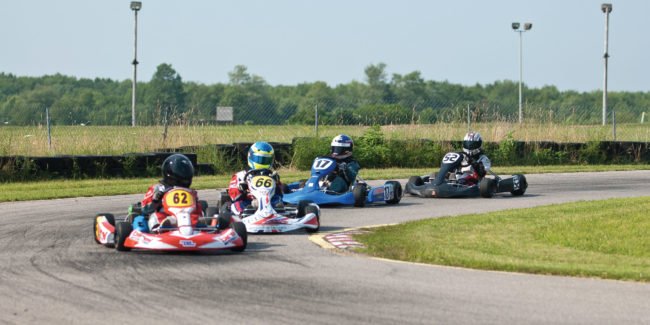 Kart Racing also known as karting is a type of motorsport with open wheel vehicle designs called go karts. These go karts have an electric motor that allows a driver to accelerate around a track competing against other drivers.
There is two types of kart racing recreational and professional.
Recreational involves small tracks both indoor and outdoor at local hobby shops and entertainment centers. These are open to the public and are perfect for birthday parties and meet ups with your friends. Typically these karts have side bumpers for safety and have limited speed because of insurance liabilities.
Professional kart racing is where many professional NASCAR and Formula One drivers get their start in racing. The karts raced in pro series vary in size and speed, with the Superkart class breaching speeds of over 160 mph. These pro kart racers travel and compete in leagues with some even having full sponsorship.
Indoor Tracks vs Outdoor Tracks
Both types of tracks are popular among racers. Generally for public racing the karts for both styles of tracks have bumpers around the frame protecting the driver, chassis, and tires.
Indoor Tracks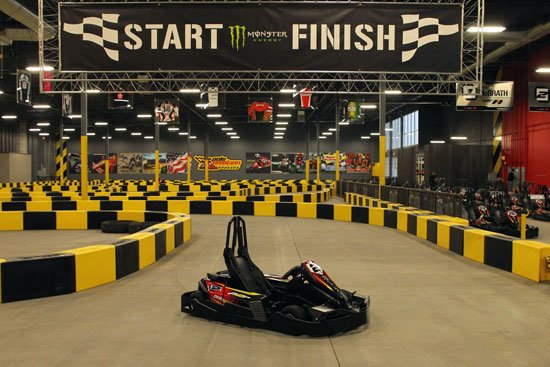 Indoor tracks tend to have more turns and less square footage. They also contain outside barriers to protect a driver from running into a wall. Indoor karts commonly have slower speeds because of square foot limitations of the tracks.
Outdoor Tracks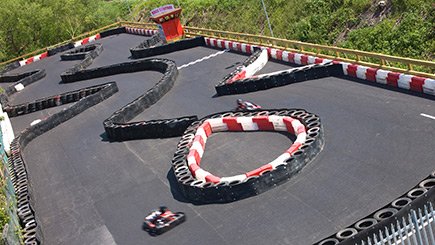 Outdoor tracks tend to be larger and will have less variety of turns (with many being ovals). These tracks often do not have barriers on the outside. If a kart was to go off the track, you would ride out into a grassy area. Of course there are some exceptions where perhaps you would have a barrier if the track was located right next to a roadway. Outdoor tracks tend to feature karts with higher speeds.
Where Can I Find Go Kart Racing Near me?
Our listings above contain over 400 tracks located in the United States. Each location lists the address, phone number, website address, and hours of operation for each track. There are however a lot of small operations like hobby shops, mini golf courses, and laser tag venues that have go kart tracks that might not be on our list. You can try typing in "Go Kart Racing" on Yelp or other local directories to find kart racing near you. You can also do a google search and type in "Go Kart Racing Near Me" which often brings up local listings and identifies your proximity to the racing facility via google maps.
What are the Most Popular Public Tracks?
There are 2 franchises that come to mind when talking about popularity: K1 Speed and  Autobahn Indoor Speedway. These two companies have go kart racing in various states and tend to draw the most enthusiastic kart racers. These venues hold normal public racing events, but also do special competitions and have leagues.
If you were semi serious about kart racing using one of those two venues are a good place to get your feet wet and find out if karting is for you.
Are There Different Styles of Races
In pro karting there are many styles of races, but in normal recreational go karting you pretty much just do laps. Depending on the venue winners are determined in two different ways:
Who ever crosses the finish line first (traditional race)
Who ever records the fastest lap times (regardless of who finishes first)
Some public tracks do both of these styles of races while others strictly do one or the other. While traditional races are alot of fun and competitive they often lead to more accidents because people are trying pass more. The more you try to pass the more potential danger you can cause to yourself or another driver. That's not to say passing isn't safe, its just that folks who don't race karts often don't have a lot of practice on the proper overtaking techniques.
Is Recreation Karting Safe?
Recreation go kart racing is safe as long as safety rules and regulations are followed. Most kart racing tracks available to the public have speed limits set on the karts so they will only accelerate up to a certain speed. There are however some tracks that have karts that can accelerate to speeds over 60 mph.
Because of insurance reasons you will have to wear a helmet for most tracks depending on the speed of the kart. In addition each track has certain rules that you need to abide by. Some have rules regarding passing, slowing down when someone is in an accident, age of the driver, height of the driver, no open toes shoes, and how many people can be on the track at once.
Certain tracks will have a race official who will referee the race to ensure safety and fairness. In these cases they often use a whistle and a set of colored flags to alert racers of race status and warnings.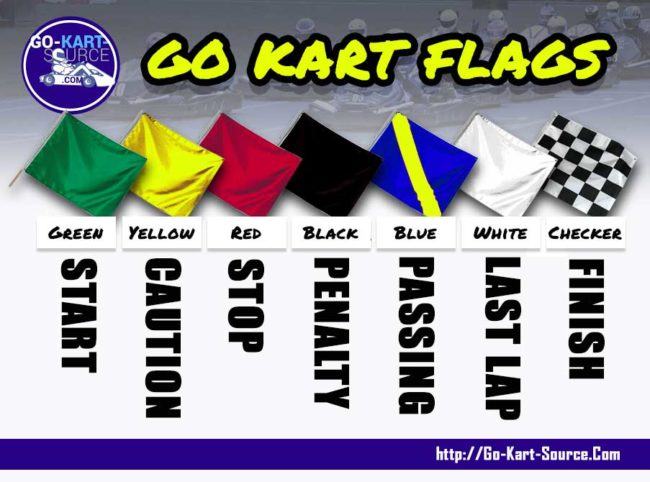 Every track is different and you should call ahead to make sure you can meet the racing requirements. As long as you use common sense and listen to and follow the rules kart racing is pretty safe.
Fitting Your Helmet is Important
Recreational Karting facilities will supply you with a helmet. It is important to not only wear one, but to get one that fits properly. If your helmet does not fit snuggly on your head, then if you kart gets bumped, your helmet can move and block your eyes leading to an accident.
Why Do Recreational Karts Have Bumpers on Them?
Most go karts for public racing have bumpers around them, while pro karts do not.
There are two reasons for this:
To protect the driver in an accident and prevent another kart from running up on it
To protect the go kart from other drivers (the karts are pretty expensive)
Do Go Karts Have Seat Belts?
It depends on the style of kart and speed it can achieve. Some states have explicit laws about seat belts in go karts, while others don't. If you are wondering is it safe to ride a go kart with no seat belt…my answer to that is yes!  If a go kart should flip upside down, you DO NOT want to be strapped in.
Is There an Age Limit to Race?
Age restrictions vary by location. There are some tracks that are kids only, others adults only, and then some do both. Age often effects the size and the speed limitations on the kart. The youngest I have ever seen to be allowed to race is 6 years old. On the contrary I have also seen a grandmother of about 80 years old do a race…and she was pretty awesome!
How Much Does It Cost to Go Kart Race?
Price varies by location. I have seen tracks that go for as little as $10 for a 10 lap race, while I have also seen tracks charge $25 for $10. For birthday parties and large events the price of course goes up based on the number of people and how long you want to rent out the track. If cost is a concern you should call the business ahead of time to find out their rates. You should also ask if there is any additional charges like gas or safety equipment.