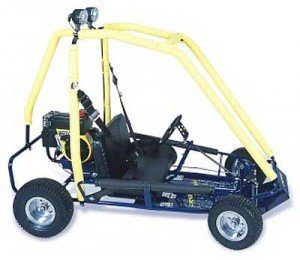 Carter Bros go kart are karts made by Carter Brothers Manufacturing in the USA. These karts are not racing go karts for track racing, they are carts for recreational use and fun.
Generally our site is about the racing go kart, but these karts are so much fun that we had to review what the Carter Bros are all about.
Carter Bros Go kart manufacturers Karts, Buggies, SXS, ATVs, Mini-bikes, Motorcycles and Scooters. They are the oldest and largest manufacturers of go karts and buggies in the world. They have built over 1.5 million vehicles to date. Some people refer to them as Carter Go Karts.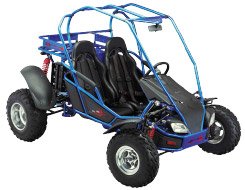 It is safe to say that the Carter Brothers know what they are doing when it comes to Karts. Their karts are made of high strength material and are durable. Currently they sell 6 different types of Karts all of which seem to be off-road go karts. You won't be racing these at any club track but they are perfect for fun with friends or for on a large property.
In addition to their karts they feature two types of highly durable buggies for the real off-road enthusiast.
What I like about the carter bros is that they provide the option to buy go kart parts for sale on their website. This is a far more convenient option than the typical go kart from a box store. They also let you download their manuals and find dealers all directly from their website.
Carter Go Karts For Sale
UPDATE: As of 2017 it appears that all Carter Brothers Go-Karts are discontinued. 
Your best bet is classifieds, Ebay, or other auction sites if you are trying to find carter brothers go karts for sale. It is doubtful you will find one new so the price pf what you find will be dependent on the condition.
Go Karts Similar to Carter Brothers Go Kart
If you are interested in other recreational Go Karts similar brands to Carter Brothers are TrailMaster and Coleman Powersports. Whats' great about these brands is they offer similar style off road Karts to the Carter Brothers, but you don;t have to get them at a motorsport or ATV dealer. These products off road machines can be found on Amazon.
While these Karts are not the same brand, they fall into the same general category and price range as the carter karts. Its ashame to see the Carter Bro's brand disappearing as they made one of the best products on the market. They are also
one of the easier karts to modify to make it street legal
. The best place to find one is second hand on Ebay, but as the machines becomes scarce so will the parts that will be needed to maintain them. Best of luck in your pursuit to find one of these gems for sale.