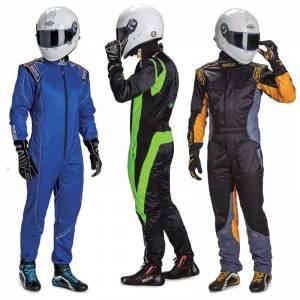 Go Kart Safety is paramount. There are some specific (and some not so specific) items you will have to buy before you get out racing at your club or otherwise!
It might set you back a bit, but don't skimp on safety. Typically the higher the cost the more quality control standards and certifications a product has been put through. You can find these items on Amazon and through classifieds and online auction sites.
Here's a list of what you'll need!
Helmet (Snell 2000+ approved)
Racing Suit
Racing Shoes (Running shoes are fine, however ones without laces are preferred)
Gloves (Racing or biking gloves work fine)
Neck Guard
Rib Protector (I used a lacrosse kidney protector and it worked great)
There isn't anything specific you need to know about go kart safety equipment. Just know where to find good deals and when to buy used. Going cheap on a used suit or pair of racing shoes is usually a good idea; however, going cheap on a helmet is NEVER a good idea. Safety is paramount remember! And it's definitely important to keep your head safe!
So lets get into some protective gear for karting.
Best Go Kart Helmet, Suit, Shoes, Gloves…
Bell Automotive Helmet | Snell SA2015 Certified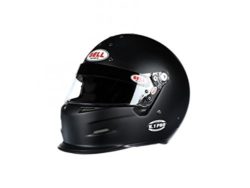 Bell is a brand name brand in helmets for all styles of racing. This particular helmet features a light weight composite shell and has Snell SA2015 Homologation. Its Available in White, Matte Black, Circuit Red or Circuit Blue Graphics and comes with a draw string helmet bag. It also has M6 Terminal Hardware for Head and Neck Restraint Devices. You can find it in sizes 57, 58-59, 60, and 61+. Check the latest price here.
What Makes a Good Helmet?
A good helmet meets the 4 S's: Size, Strap, Straight and Snell.
Size: If you are new its best to try on a few helmets and find your size. Not everything will fit comfortably and the best thing you can do is compare one helmet to another.
Strap: The chin strap should fit snug around your ear and then underneath your chin. When the strap is tightened your helmet should have no wobble at all when your head moves.
Straight: Wear your helmet low on your forehead, just above your eyebrows. Sometimes its easiest to look in a mirror and see how the helmet is sitting over your face.
Snell: Snell certification is the most rigorous testing a helmet can be put through. Helmets that meet the Snell standards are typically a little more expensive, but are also considered at the top end of the safety equipment spectrum. Snell helmet certifications that are normally excepted at go kart clubs usually start with the letter K or SA.
READ MORE ABOUT MY #1 RATED HELMET HERE
One Piece Go Kart Racing Suit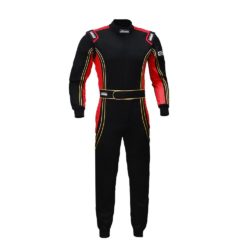 The JXHRacing One Piece Suit is perfect for Karts. Its not as expensive as brands like Alpine Stars, but has all of the same features. The suit is made of one layer of 100% flame-resistant cotton and has a knit shoulder gusset for full range of movement which you will need through tight turns. The Velco collar and belt make it easy to take on and off. Check out the latest price here.
How Should a Racing Suit Fit?
It should naturally on your body. You don't want it to big where your swimming in it, but to tight will constrict your movement. You should have a little room in the chest for a rib protector and the the collar shouldn't bunch up by your face.
Some people like losse fitting cuffs for their hands and feet, but the safest suits have knitted cuffs that close tightly on your wrists and ankles. This helps protect you from having loose flapping gear that can catch onto parts.
Suits come in sizes XS, S, M, L, XL, 2XL. If you find a suit that fits close to your body size you can always get it tailored to have a custom fit to your body shape/size.
READ MORE ABOUT MY #1 RATED SUIT HERE
Alpinestars 1-K Karting Shoes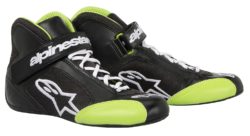 The Alpinstars 1-K karting shoes feature a low profile ankle with a velcro strap to secure your laces and create a snug fit. These shoes have plenty of padding and thin ergonomically designed soles which makes it easier and more comfortable to feel your pedals under your feet. Check the latest price here.
What to Look for in Go Kart Racing Shoes
Racing shoes for Go Karts should be comfortable, have a thin bottom, and have no laces or a well designed lace system that keeps them tucked in. The two areas that are most important for comfort are around the ankle for mobility to turn your foot and the bottoms should be thin so you can feel your pedals.
Can You Use Running Shoes?
Running shoes are fine, but they tend to have laces, have thicker bottoms, and little ankle support. Everybody has used running shoes on a kart at one time or another and its certainly acceptable for a beginner. If you are serious about kart racing though you should consider a nice karting shoe for the feel under your feet and the protection around the ankle.
READ MORE ABOUT MY #1 RATED SHOE HERE
Alpinestars 1-K Race Gloves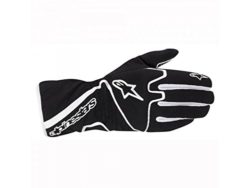 The 1-K Race Gloves from Alipinetars have a Silicone treatment on fingers and palm improves grip and feel. They have an open mesh fourchettes to promote efficient moisture wicking and temperature regulations so your hands don't get clamey. These gloves are really light weight and have padded protection in the knuckles to protect against impacts. Check the latest price here.
What makes a Good Kart Racing Glove?
A good love should fit snug around the rest and your fingers should reach all the way to the tips with no loose material. They should have an extended write guard that covers part of your forearm and tucks your suit in to the wrist. The palms and fingers should be thin so you can feel the steering wheel in your hands and have a good grip.
Is a Biking Glove OK?
Yes as long as they thick enough to protect your hands if there is an impact.
READ MORE ABOUT MY #1 RATED GLOVE HERE
EVS Sports R4 Race Collar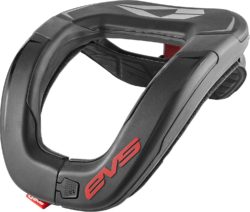 The EVS sports neck brace allows you a lot of natural movement for your head while still providing maximum protection for your neck. You won't be able to swing your head completely around, but thats a good thing as this device keeps you in the safest position. Two of the best features of the R4 is that it has a Bio-foam liner for extra impact absorption and a patented lock system on the front for easy entry. Check latest price here.
How to Pick Out The Best Neck Brace for Karting
There are a variety of styles of neck guards and there are a few key things that stand out in importance. Comfort is critical and you should try a neck guard on with your helmet. The guard should not be heavy and put undue stress on your shoulders. It should be easy to put on and adjust to your body size. Most importantly it should allow for good head movement, but prevent you from a total head turn.
READ MORE ABOUT MY #1 RATED NECK COLLAR HERE
Armadillo Rib Vest and Chest Protector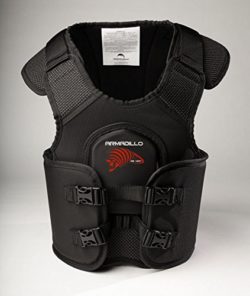 The Armadillo helps pad the driver's ribs, shoulders and kidney area. You can wear it underneath or over your suit. This chest protector is a bit bulky and could feel heavy on a junior, but you can adjust the side panels for more comfort. This is one of the best pieces of safety gear because it provides complete torso coverage and a well-padded back. Check the latest price here.
Is a Chest Protector Necessary?
You should really have something protecting your torso when you are karting. There are som many thing that can go wrong at high speeds and you need a guard on your back, chest, and ribs. You can use other safety equipment for football or lacrosse, but no matter what you should have some protection.
READ MORE ABOUT MY #1 RATED CHEST GUARD HERE
Keeping Your Safety Equipment Safe and Clean
If you've ever played in an outdoor sport like soccer or football before you know it's hard to keep your stuff clean and smelling nice! Go karting is no different and you will end up getting grease, oil and gas on your suit, gloves and body at one point! And don't even get me started on the sweat factor!
It is definitely a good idea to keep your suit clean not just because the oil and gas stinks and can be uncomfortable, but you'll look better too! If you look around, the go karters who look the fastest off the track always have the cleanest looking suits! At least that I've noticed… Anyway!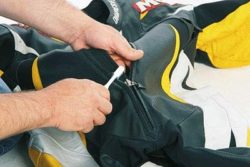 To wash your suit just fill your laundry bin (or bathtub if you don't have one) with some warm water and add some detergent. Hand wash to get it clean and use stain remover (or bar soap) to get out those grease spots out. Even if you don't get the entire stain out, you will get most of the soil and grease out so that it won't get worse and it won't smell bad!
You can treat your gloves, neck guard and anything other equipment the same way if they get dirty. Washing them in a washing machine is not always a great option unless they are in a load by themselves. Unless of course you want grease all over the rest of your clothes!
When you aren't racing, it's a good idea to keep your equipment in a large sports bag or something similar just so it won't get misplaced. The last thing you want to do is show up to a race with a missing helmet, neck guard or pair of gloves. (Trust me)
Top 10 Tips for Go Kart Safety

Go-Kart Safety Equipment Conclusion
Safety equipment is an integral part of the sport and you should never take for granted the equipment. If you have wrecked you should always inspect your gear particularly your helmet for cracks or scratches. Its easy to ignore the protective measures, because you always feel like "its not going to happen to me", but if you do crash you will be so thankful for the safety gear. I know its expensive stuff, but its all about keeping healthy and alive so you can participate in the next race!