How to Start Go Karting!
Want to know how to start go-karting? Well, if you are visiting this page it's probably because you've just returned from a day at the track watching some go kart racing and just have to find out how to get started. Well, the good news is you're definitely at the right place.
Karting Arrive and Drive
A great way to start go-karting is to try driving in an arrive and drive program near you. Arrive and drive is basically what it sounds like. You arrive, pay a fee, and drive a 4 cycle go kart with others to get a taste of competitive racing. This is a great way to get a feel of the kart before you invest in purchasing your own. Most arrive and drive programs will offer to provide you with most of the safety equipment needed to race (helmet, neck guard, etc.), but be sure to double check. Overall, arrive and drive programs are a great way to get a feel of go karting or just have a great time with friends and family if you're ready for a little more speed than those kiddie go karts. Before you start go-karting you have to buy one (or drive for someone's team).
Buying your first 4 stroke go-kart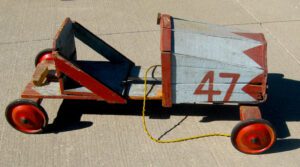 Used – There are some important things to consider when purchasing a used go kart. First of all, it is a good idea to do some research. The last thing you want to do is jump into a purchase that you think is a great deal and find out that you've wasted your money on an old worn out chassis or engine. Take your time and consider how much you are willing to spend on a used kart.
Generally, you can expect to spend between $800-1500+ dollars for a rolling chassis. A rolling chassis includes the chassis, axle, rims, and sometimes a gas tank and other various parts depending on the package. The price is dependent usually on the brand of chassis and the age.
Generally, you can expect to spend between $1000-2500+ dollars for a race ready go kart. A race ready go kart includes everything listed above plus an engine. The price is again dependent on the age of the go kart, type of chassis and age/type of the engine (junior, senior). Basically, look and around through some local classifieds on line and try to find a great deal. Make sure you ask the right questions when you go to purchase your used go kart. Some general questions you might consider are…
Has this chassis ever been in a major accident causing bending?
Has this axel ever been bent or dented?
How often is the engine refreshed by the engine builder?
What parts and equipment are included?
What type of oil was run through the engine previously?
Hopefully this has given you some helpful hints to consider when looking to purchase a used go kart for competitive use.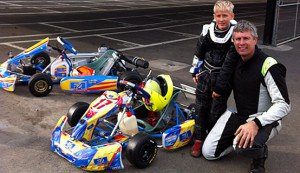 New – If you are considering buying a new go kart there are some other expenses to consider. Buying a new chassis and engine will increase the total cost of your go kart by quite a bit. To find your new chassis you must first determine the brand you would like to represent. Some brands are better known than others and therefore more expensive.
To find out more about which chassis you may want to drive, check out our chassis reviews which are done by people who actually own and drive them. You can also discuss chassis brands on our discussion boards. After you decide which chassis you would like to buy, you must contact your local supplier.
A new chassis can cost anywhere from $1500 – 2500+ dollars depending on the year and brand. You must then purchase your engine. Depending on what club or championship you plan on competing in, there will be some specifications you must follow.
An engine can be purchased from suppliers locally as well and vary in price depending on the level on competitiveness you are looking for. This could set you back anywhere from $750 – 2000+ dollars. Some questions to ask when purchasing your new go kart are…
What accessories are included with my new go kart (gas line, throttle cable, etc.)?
Do I get a set of tires with the go kart – (make sure they are the spec tire for your club or championship series – for more information visit our tires page)?
How often will I have to get my engine freshened up?
Will I be able to contact you (the supplier) if I have any issues with my engine/chassis?
Before you start go-karting: Some last minute stuff
Isn't it easy to start go-karting? After you've purchased your go kart, it's time to get all the last minute things you need to get into the kart and win those races. You need your safety equipment, your tools and spare parts, your oil and gas, and your regulations for racing. All of the information you need on the following can be found in our articles located in our go karting guide section. For more information or if you have any questions, check out our discussion boards for friendly help from go karters who have been through all this getting started stuff before, or contact us. So go start go-karting!
Related Amazon Products