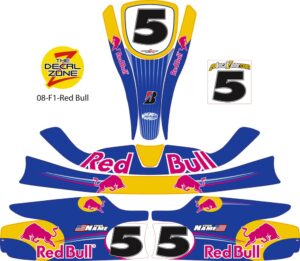 Let's face it, Go Kart Sponsors are hard to find. If you want to get fast, and get to the front of the pack, chances are you are going to need a lot of money. A sponsor is a great way to help finance your go karting career. Keep in mind that most karters do rely on their own funds… usually mom or dads! It isn't unreasonable to believe, however, that you can definitely find a business willing to sponsor you. Just be realistic!
Who Should I Ask?
• A great place to start when looking for a sponsor is your own place of employment or previous places of employment. Generally they will be interested in what you're doing and your future goals! You can usually count on them to lend a helping hand. If they do not, however, have any interest in helping out, you can move onto another option…
• Other local business that your family or close friends have worked for. Ask around and see who may be interested in sponsoring you. It doesn't even have to be automotive related as long as they feel it would benefit them in the long run to sponsor you.
What Should I Offer Them?
• Well, obviously a go kart sponsor will be looking for advertising. This can include advertising space on you kart in the form of a cool looking decal, or on your racing suit in the form of some embroidery, etc. Another place you can offer advertising is on your trailer, this could draw in a sponsor quite well because that is a huge advertising space opportunity. You and your trailer drive back and forth to your club or race event pretty often and therefore their advertisement will reach a lot of potential buyers. You can even offer a potential go kart sponsor to have them sponsor you only on a race day basis. This way they aren't tied down to having to sponsor you every race day and can simply try it out!
How Do I Ask?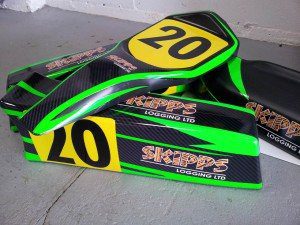 • It's a good idea to write up a professional looking letter including all of your previous accomplishments as well as your future goals. You should include where you race, with whom you race and why you race! Be sure to include pictures and anything else you feel would persuade them to take you on. You should also include how much it costs you to race. Include your entire weekly costs such as oil, tires, gas etc. They may want to sponsor you for a single expense. Think of it as though you are applying for a job. You want to portray a great image, and you want them to feel as though you are a great investment for them as a sponsor.
How Much Should I Expect?
• Generally speaking you should think in reasonable terms. You can't expect as a first year karter to rake in thousands of dollars from a sponsor. Even if you were to get only a go kart tires sponsor for the year you should be thankful. As you improve and starting proving yourself out on the track a little more, sponsors will realize more potential in you and may be willing to sponsor you with more money. Getting into the thousands of dollars. There are some go kart racers who have chassis and engine sponsors even!! Let's hope you can be just as successful!
And then again there is always dad!!
Hopefully this has helped you in thinking about ways you can get a sponsor for your next racing season. If you have questions or comments, feel free to contact us using the link below!
One final option would be to do what we have done here at Go-kart-Source.com.
We have made enough with this site in the last 5 years to buy our own kart! The following video will explain what we mean: