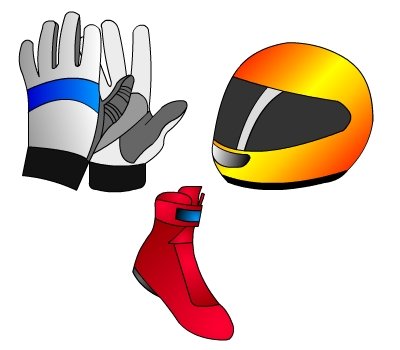 Go Kart Safety is paramount. There are some specific (and some not so specific) items you will have to buy before you get out racing at your club or otherwise! It might set you back a bit, but you can find great deals on go karting safety equipment online through classifieds and online auction sites. Here's a list of what you'll need!
Helmet (Snell 2000 approved)
Racing Suit
Neck Guard
Rib Protector (I used a lacrosse kidney protector and it worked great)
Racing Shoes (Running shoes are fine, however ones without laces are preferred)
Gloves (Racing or biking gloves work fine)
There isn't anything specific you need to know about go kart safety equipment. Just know where to find good deals and when to buy used. Going cheap on a used suit or pair of racing shoes is usually a good idea; however, going cheap on a helmet isn't always great. Safety is paramount remember! And it's definitely important to keep your head safe!
Keeping Your Safety Equipment Safe and Clean
If you've ever played in an outdoor sport like soccer or football before you know it's hard to keep your stuff clean and smelling nice! Go karting is no different and you will end up getting grease, oil and gas on your suit, gloves and body at one point! And don't even get me started on the sweat factor!
It is definitely a good idea to keep your suit clean not just because the oil and gas stinks and can be uncomfortable, but you'll look better too! If you look around, the go karters who look the fastest off the track always have the cleanest looking suits! At least that I've noticed… Anyway! To wash your suit just fill your laundry bin (or bathtub if you don't have one) with some warm water and add some detergent. Hand wash to get it clean and use stain remover (or bar soap) to get out those grease spots out. Even if you don't get the entire stain out, you will get most of the soil and grease out so that it won't get worse and it won't smell bad!
You can treat your gloves, neck guard and anything other equipment the same way if they get dirty. Washing them in a washing machine is not always a great option unless they are in a load by themselves. Unless of course you want grease all over the rest of your clothes!
When you aren't racing, it's a good idea to keep your equipment in a large sports bag or something similar just so it won't get misplaced. The last thing you want to do is show up to a race with a missing helmet, neck guard or pair of gloves. (Trust me)