Overtaking or go kart passing is a very important part of go kart racing. There will be countless numbers of opportunities to pass and be passed every time you head out to the track. Whether it's during a practice, or during the final points race of the season, passing needs to be smooth and efficient.
Preparing Before Hand:
During a practice or qualifying session on the track, it is a good idea to consciously look for places on the track that you might be able to pass on. Consider the line you would drive in a situation you might pass and practice it a few times. This way, when you start the race you already have a plan of how your going to get up to the front in the least time possible.
The Basics:
The most likely way you are going to be able to pass someone on the track is if you are able to out-brake, or out-accelerate you opponent. Here is an example of how one might go about passing an opponent into a turn:
1. Out Braking into a Corner:
The title is pretty much self explanatory. You have to be able to out-brake your opponent into the corner so that you have the advantage on the inside. You will have a tighter line and will be able to pull away with your speed coming out of the corner.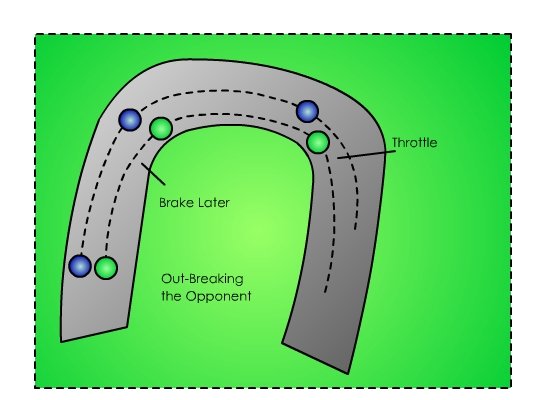 *Important* – Avoid "Diving" into the corner to avoid an accident. As a general rule, make sure that the person you plan on overtaking has seen you and knows not to turn into you overtake them. If you are not at least level with the other go karter before they start turning in, back off. Other wise, you may cause an accident and be disqualified.
2. Out-Accelerating out of the Corner: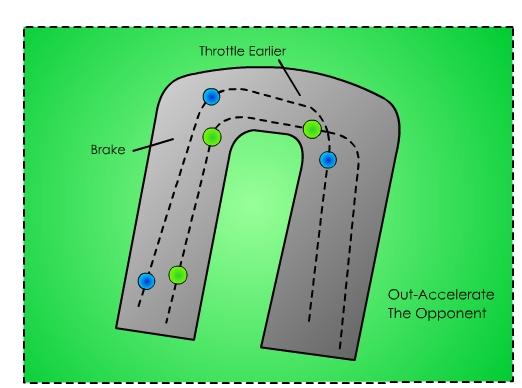 Your goal when using this method of overtaking is to use a wider line going into the corner so that you may start to accelerate before your opponent. The goal is to be heading straight forward on the throttle as your opponent is just coming out of the corner.