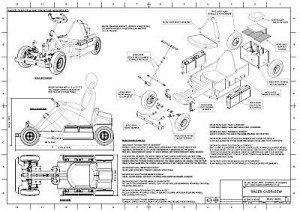 This article is about go kart plans but probably not what you are thinking. Let me start out by saying that I know a lot of people search for How to build a go kart plans. As you know from reading this site, we are all about competitive karting, not having fun in your backyard. If you are thinking that you can use a set of plans to build a go kart to race competitively in a club you are sadly mistaken. The problem you have is that all chassis in sanctioned competitive racing need to be homologated / registered by the CIK-FIA. This means that your homemade kart has no part in competitive racing (unless you are very good at following CIK-FIA regulations on frame construction and you use a spec engine for a class).
If you are looking for go kart plans or go kart kits I am sure that the ads above and below have what you need!
Also, if you want to try to make your own kart that complies with the CIK-FIA rules then click to the Go Kart Kits page.
This article is about planning your go kart year financially to make sure you are ready to spend your money wisely on go karting this year. If you already race go karts you know that without a go kart plan on finances you can spend lots of money quickly. We would all like to practice all day every day, but unless you really can afford it I wouldn't recommend it. Think about it. Hours of practice every day means a new set of tires virtually every day, and a new jug of oil every few days, practice fees, gas, time spent not working and so on.
Everyone interested in Karting who isn't already a go kart racer needs to plan for these general expenses: ***Note this is for a 4 stroke class… 2 stroke classes can expect to pay much more for tires and gas etc…***
• Club registration fees: (Anywhere from $150 – $250) (I'm in Canada)
• Race fees (my club had 11 races at $65 each = $715)
• A Few sets of Tires (3 sets at $250 each = $750) <- If you practice this will be much much more!
• Gas (Can't remember exactly… at least $50)
• Oil (at around $45 – $60 for __L = $200)
• Parts and other expenses = $250 (definitely an underestimate!))
This all adds up to around: $2115 – $2215! This doesn't include practice time, engine tune-ups (Dyno), Traveling costs, lost wages, or buying a kart if you don't have one yet!
It is clear that in order to go kart, you need to plan your finances. A budget is the best way to do it. You need to sit down before the season starts and go over all how much you are willing to spend on karting, what all the necessary expenses are and all the unnecessary expenses are that you wish to spend. This way you can see how you will fare during the karting season financially.
I know some don't have any trouble at all paying for a karting season, but others do and this article is for them!