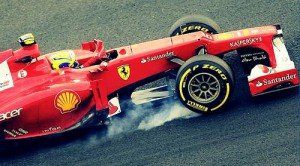 Go kart brakes are arguably the most important component of a competitive racing go kart chassis. On most 4 stroke go kart engines, there is one braking system attached to the back wheels only. There are two components on the go kart brakes which make it unique.
Disc Brake Caliper
This portion of the brake system on a go kart is very important. It is usually made of heavy steel and has two rubber pads on it. When the brake pedal on the go kart is depressed, the brake fluid causes these two rubber pads squeeze towards one another and put friction on the brake disc. This is what slows the go kart down.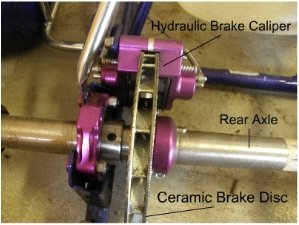 Brake Disc Rotors
The brake disc rotor is what the brake caliper squeezes to cause friction to make the go kart slow down. Competitive go kart racers use two types of rotors. Some are more expensive then others. They include steel disc rotors and ceramic disc rotors. Ceramic disc rotors are usually more expensive because they are of higher quality and can withstand the high temperatures that are created with the friction associated with braking.
Brake Care
It is important to take care of your go kart brake system whether you race competitively or if you do off road go karting. Braking effectively and efficiently is crucial in staying smooth with your race plan and on your cornering. You can buy cleaners that are specifically for brakes that will keep the rotors and the callipers clear of dust and dirt from the race track. Do not use oil or lubricants like DW-40 to clean you brakes, as this will cause them to slip and be less effective during your race.
Brake Bleeding
It is important to bleed your brakes often to ensure that they stay "tight" during your race. Having tight brakes refers to the feeling of your brakes being very responsive in a race. If your brakes become loose you may not be able to use them properly in braking, manoeuvring, cornering and passing. To bleed your brakes, you will simply loosen the bolt which holds in your hydraulic brake fluid and drain the old fluid into an empty bottle using a brake bleeding pump. You then pour your new brake fluid into the brake line using a funnel until it reaches the point of being just filled. Make sure you pump the brake pedal to ensure the fluid runs through the hydraulic system thoroughly. When you fully depress the brake pedal, you should be unable to move the rear wheels.