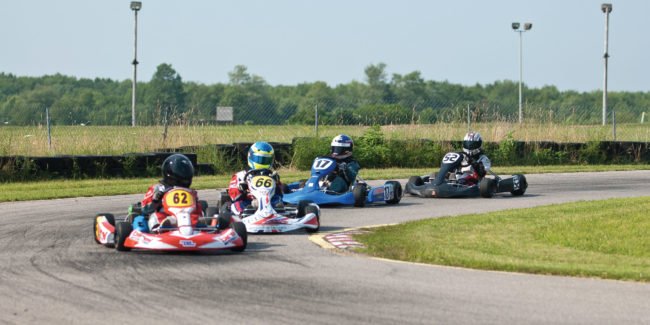 Overtaking or go kart passing is a very important part of go kart racing. There will be countless numbers of opportunities to pass and be passed every time you head out to the track. Whether it's during a practice or during the final points race of the season, passing needs to be smooth and efficient. Even if you are not a serious kart racer and you are using family friendly indoor track…we will cover the most important moves you need for success.
In this article we will cover the two most important techniques used to overtake your opponents when cornering; out-braking in and out-accelerating out. Of course there are other times to pass, but these will be your best opportunities for a clean overtake.
Understand the Track
During a practice or qualifying session on the track, it is a good idea to consciously look for places on the track that you might be able to pass on. Consider the fastest racing line you would drive in a situation you might pass and practice it a few times. This way, when you start the race you already have a plan of how your going to get up to the front in the least time possible.
Wide parts of the track are the most ideal and the safest, but tight turns can offer the element of surprise although you need to be able to pass both clean and safe. The idea is to find spots of vulnerabilities where other drivers may go wide or take turns to tight.
How to Pass in a Go Kart Race
The most likely way you are going to be able to pass someone on the track is if you are able to out-brake or out-accelerate you opponent in a turn.
Out Braking Your Opponent Into a Corner
The title is pretty much self explanatory. You have to be able to out-brake your opponent into the corner so that you have the advantage on the inside. You will have a tighter line and will be able to pull away with your speed coming out of the corner. The move starts with getting parallel to your opponent and essentially you are preventing them from turning in.
In the diagram below, the green dot represents the proper passing move.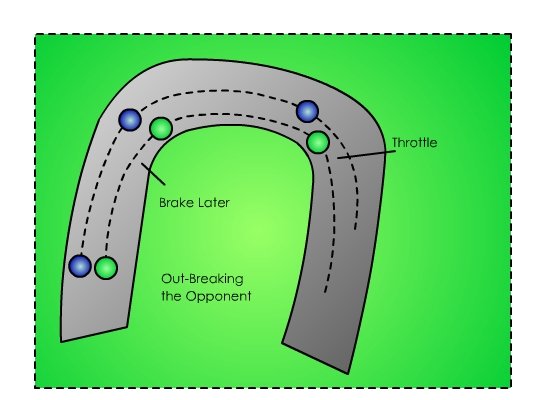 Here is the step by step approach to a proper out-brake pass:
Get parallel to your opponent
Brake slightly later than them on the turn in
Ease off the throttle and maintain the inside line
Visually check where your opponents kart is in relation to yours
Accelerate on the turn exit and move onto your opponents line (if its safe)
Pro Tip: Avoid "Diving" into the corner to avoid an accident. As a general rule, make sure that the person you plan on overtaking has seen you and knows not to turn into you overtake them. If you are not at least level with the other go karter before they start turning in, back off. Other wise, you may cause an accident and be disqualified. 
If you are trailing an opponent and not parallel, you can also look for an opportunity when the car ahead of you starts to drift wide into a corner and they leave a gap to the inside. You can accelerate into and out-brake them (risky move though, cause they still need to see you). If it's not meant to be back off and wait for another corner.
Out braking is a good technique, but it is often the slowest way through a corner as it utilizes the early apex.
Out-Accelerating Out of the Corner
Your goal when using this method of overtaking is to use a wider line going into the corner so that you may start to accelerate before your opponent. The goal is to be heading straight forward on the throttle as your opponent is just coming out of the corner.
In the diagram below, the blue dot represents the proper passing move.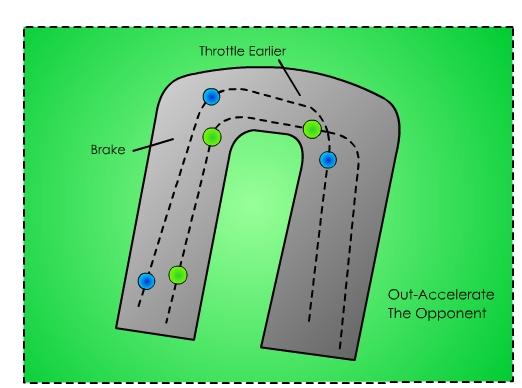 Here is the step by step approach to a proper out-brake pass:
Take a wide approach on the corner (use threshold braking)
At the end of the braking zone begin your acceleration
Aim for the late Apex on the corner exit
Look to be full throttle and straighten your wheels as fast as possible
Pro Tip:  This best executed when your opponents have a tendency to turn in early. The key to pulling it off correctly is to time your throttle compression in a straight line, while your opponent is still cutting their wheel for their turn exit and can't accelerate at the same rate you can because of the slip angle of their tires.
Out-accelerating using the late apex is the fastest way through the corner and is a pro passing move.
Go Kart Overtaking – Wrap up
Understanding these two techniques will carry you along way into winning more races and getting your season points. There is a certain art to it and it requires timing, patience, and practice. The diagrams above are for one turn type, but can generally be applied to most corner angles.
For other pro go kart racing tips you can checkout the top 10 cornering techniques which will also help you to pass like a pro kart racer.