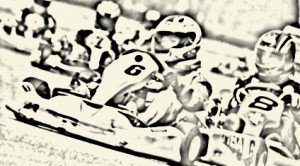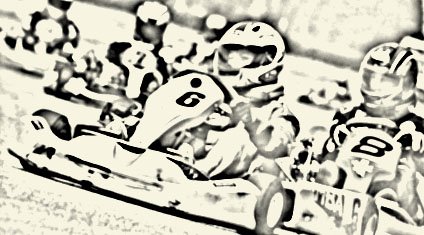 How do you win your Go Kart race? It's all about preparation I find. If you are prepared for the day at hand, there will be no surprises, you can be calm and collected, and overall have an excellent race day. Sometimes it's not even about winning the race, it's about finishing the race strong and knowing that you drove the fastest race you could have in the end. Below are some steps you can take before every race weekend to ensure you having a smooth race day.
1. Make sure that everything that needs to be done on the kart is completed before you get there. Change your oil, tighten up and double check all the nuts and bolts, get your spec gas all ready to go, etc. There is nothing worse than showing up on a race day and having to make drastic improvements to you go kart while you're on the paddock.
2. Get an excellent sleep the night before, and make sure you eat a great breakfast. I understand that we go kart lovers have to get up early to be where we need to be sometimes, but regardless you will perform much better on a full stomach than you would otherwise. And then there are those of use who need to eat to make weight either way! So eat a good meal before you get going!
3. Try to pay attention to the race officials. It sucks to be last on the grid or have people waiting for you because you missed the call while you were having a conversation with that cute girl from the next pit over. So try to resist and pay attention! The day will go much smoother overall if you're on time.
4. Before you get on the grid it's a good idea to take a look at the track, sit down, and quietly get in the zone. This might seem weird but every go karter should try it at least once if they don't already do it. Try and just visualize the track in your mind so that once you get out there it will seem easy! Like you've done it one hundred times before. This is especially crucial if you are at a track you've never visited before. You should really take the time to study the track in this case.
5. Once you're on the track, your focus has now switched to the green flag. As soon as that flags falls you need to be ready to step on it! Getting a good start is a crucial part of any race. Be ready for it.
6. Once you're actually racing, try and stay calm, cool and focused on the kart in front of you. Always be thinking ahead about how you might overcome or hold off an opposing go kart. Also, always be ready for them to make a mistake. Every time they slip up, you are given an opportunity to make a move. Take advantage of this factor and stay focused so you aren't the one slipping up! This will be your key to winning the race or finishing ahead of those you have been racing with all year.
Of course we aren't saying that by doing these things you are sure to win your next go karting race, however, these steps should help you to stay calm, cool and confident. These three things are crucial for a racer! Hopefully they have been of some assitance to you. How do you get ready for you race the night before? Drop us a line using our contact form and we'll ad it to this page!