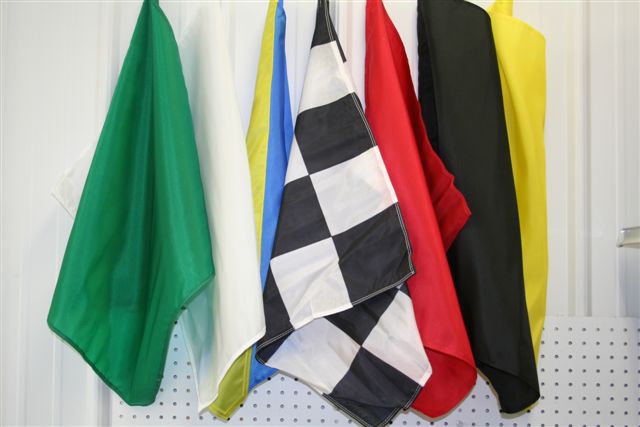 Here is a simple break down of what the typical racing flags mean for most go-kart events. Your club may use a different set of flags to officiate the race. It's always best to ask an official before hand if you are unsure of which karting flags they are using. For the most part the colors and meanings below are pretty universal from track to track.
Go Kart Racing Flags – Color and Meaning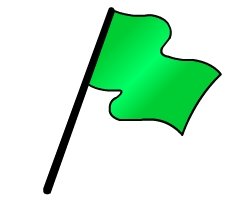 Green – A green flag may often be used to signal the start of a race. This varies from place to place, as a lighting system may be used in some cases.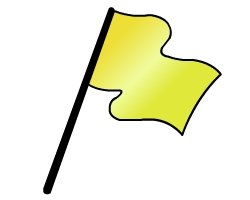 Yellow – A yellow flag signals a warning or caution. In a race situation it usually indicates that there has been an accident or spin out. Drivers must slow down and approach with caution to pass the go karts that may be stopped on the track. No overtaking is permitted on a caution flag.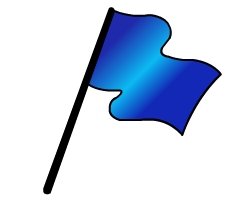 Blue – A blue flag indicates overtaking. If you are shown this flag, yield the racing line to the faster go karts that are approaching. It's important to keep an eye out and be cautious as to not cause an accident.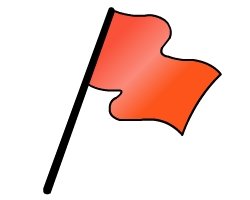 Red – The race has stopped. There may be an emergency on the track. Stop immediately on the side of the track or proceed to the nearest racing marshal when directed to do so.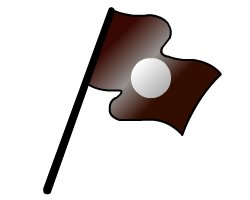 Black with Circle – This is a mechanical flag. If this flag is pointed at you, there is something mechanically wrong with your kart or racing clothing. You are to proceed to the pits cautiously as soon as possible.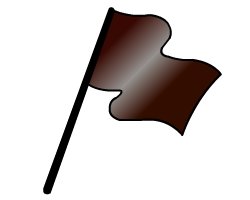 Black Flag – Disqualification flags are used when there has been a foul on the track. If this flag is pointed at you, you know you're in trouble! Some clubs give a black and white diagonal flag as a warning first, must usually you will simply be instructed to proceed to the pits immediately. *Note* your kart number will usually be accompanied by the flag to notify you clearly and avoid confusion.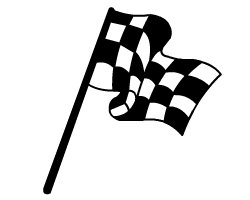 Checked Flag – Signals the end of the race, practice or qualifying session! Hopefully you're the first one to see it!
If you want to see more checkered flags checkout this article on how to master the art of cornering.
Resources for Karting