ASN is Canada's National Motorsports Sanctioning Authority and creates karting regulations every year for kart sport that tell you and I how to do things right… here are regs that we find most useful to new and experienced go karters. We use Canada's Regs, it is recommended that you check with your club what rules you should follow.
Pre-Tech
Pre technical inspection is what happens every morning before the big race. Every go karter is required to complete their own pre-tech inspection self declaration. This can be confusing at first for new karters.  Just place your race sticker on the assigned spot and get ready to race! Make sure you don't forget to pre-tech! If you do, you're liable to receive a penalty or be disqualified all together.
Pro Tip: All you need to know is that as long as your go kart is up to spec according to the pre tech form you are given at registration, and the inspector gives you the ok, you're all good!
Post-Tech
Post technical inspection is what happens every day after the final race. Usually, the top five go karts are chosen for post tech; however a technical inspector may chose to inspect any kart that was in competition.  The tech inspectors may choose, however, to open up the engine and make sure everything is to spec. After they do this, you my friend, are responsible for putting it all back together… so if this is your first time, you might want to pay attention to what they are doing!
Pro Tip: As long as none of the bolts that were painted before qualifying are tampered with, and the tires that were painted before qualifying were used, you are pretty safe.
Wet Racing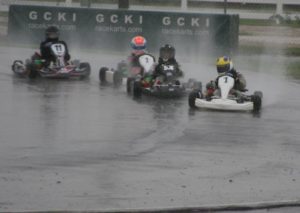 Usually, the club or other facility you are racing with will let you know what specific tire is to be used during a wet race.
This is pretty fool proof; but unless you were wondering, it's against ASN regulations to use modified, grooved or altered dry tires.
Pro Tip: When racing in the rain move in your rear tires. There is a minimum width that ASN states it must be for dry racing, but this is waived for wet racing as long as the axle doesn't stick out the end, which would most definitely be a pretty dangerous situation!
Wheels and Hubs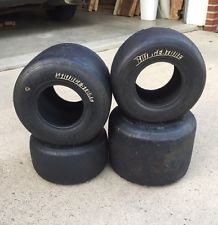 There's only one common sense thing you need to know about your wheel hubs. They have to made of metal, and they have to be keyed to the axle. Hopefully you got all that!
There are some pretty specific things you need to remember for your wheels though, so maybe you should double check next time you go out racing.
Basically, the maximum width of your front tires should be 135 mm. Your rear dry tires can be between 175 and 185 mm. The end!
Drivers Seat
If you're light like me, you may have a bunch of lead stuck to your seat to help you weigh in. Here are some seat regulations you might want to check out so that you don't break any rules. Make sure that the seat is only one piece with no added on sections. The seat has to be in good condition in order to use it. So if you've got a few cracks or holes in that old seat of yours you might want to consider a replacement some time soon. Finally, make sure your seat is no less than 14 mm from the top of the seat to the ground when you mount it.
Mounting Your Lead / Weights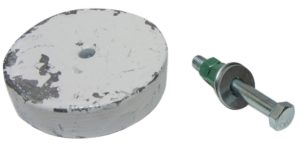 This is the part of the regulations I've become most familiar with over the years. The most important thing you need to know is that your lead must be securely attached to either your seat or the main frame of the kart. So, no lead in your shoes, no lead in your pockets, even when you've run out of room to put it all!
You are also required in the regulations to use large washers when mounting your led to your seat. It's not just safe, it's sensible, because it will help your seat last longer in the long run.
Pro Tip: You're also not allowed to attach any lead or ballast weight to any of your body work, as tempting as it may be sometimes when you are tight for space.
Body Work
Most of the regulations included in ASN Canada's regulations are commons sense. However, there are some things you might want to know if you are ever in the situation where you need a quick fix but don't know if you will pass post tech after the final race. Basically, if your nose cone breaks off during a race, you can only reattach it with the suitable clamps. You are not allowed to attach your nose cone with any other types of clamps, wires or tape. Sorry, duct tape cannot fix this one.